Always wanted to try archery but never knew where or how? We make it easy for you here!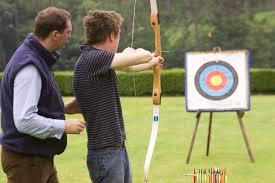 Whether its on the bucket list, your trying to be your favourite movie character, or you just want a day out to do something new and exciting let us get you off to the right start. We offer year round rentals of recurve bows to give to the opportunity to try out the exciting sport of archery to see if it's for you!

We accommodate almost all ages with some starting as young as 5 years old depending on strength and size. Not only do we offer the equipment to participate, we provide a quick 1-on-1 or group tutorial before you go out on the range on how to properly use the equipment. We have grown into one of the premier destinations to get into the sport of target shooting and have lots to offer anyone who arrives!
How rentals work:
No Appointment Necessary (call to ensure avaliability for large groups)

We rent out equipment during business hours only and they must remain on the property for the duration of the rental

The rental period is until Dusk the same day at which time they are to be signed back into the store

Arrows are purchased individually and are used continuously throughout the rental period and are kept by the participant at the end of the day

NO PETS ALLOWED AS WE ARE AN ACTIVE SHOOTING RANGE
Pricing for Rentals:
Rental of Recurve
$10.00
Range use Fee
$10.00/adult or $5.00/(12 and under)
Purchase of arrows (3)
$8.00 ea +tax = $27.12
Total
$47.12/adult/day
$42.12/youth/day
Tutorial on equipment use and shooting technique

3 arrows purchased by customer (after shooting if you found all your arrows they are yours to take home)

If you have your own arrows bring them to use to keep the cost down

Use of full target range

Use of both 3D courses with unlimited rounds
What's Included With Admission:
Full day use of:

Catch and release bass ponds (barbless hooks only!)

Axe/knife throwing (Bring your own or rent ours)

Horseshoe pits available

Use of BBQ's and pavilion for meals and shelter
Don't wait any longer, come and get involved in the great sport of archery today! It's easier than you think!